Boomer Women's World – June 2012
Can You Believe That 2012 Is Almost Half Over? Where Has The Year Gone?
I don't know about you, but for me it's kind of mind-boggling. Before I know it, we will have reached one of my favorite summer days – Summer Solstice – the longest day. Always a great time for celebrating. Especially if you, like me, feel more energetic when the sun is shining!
Just thinking about this takes me back to my college days in Madison, Wisconsin, where we used to celebrate the solstice with a day of summer activity, capped off by swimming from the pier at the Wisconsin Memorial Union, then sitting on the dock enjoying a cool drink while watching the sun set over Lake Mendota. Talk about the "lazy, hazy, crazy days of summer." Those days, which I've never been able to relive, were pure perfection!
But fast forward to current times: With the exception of some recent high humidity, we've been enjoying beautiful weather here in the Midwest. And, with the sun up so much later, we can get our work done during the day and still have more time to take a walk, jog in a park or enjoy some sort of water fun.
What's your favorite summer activity?
These days, one of my favorite summer things to do is to drive to Lake Galena, sit on the porch at the marina, and watch the birds and the people with their boats. There are nearby trails if we decide to take a walk. And if we get there early enough, we can usually enjoy watching a few hot air balloons drift by. Regardless, we always stay late enough to watch the sun set over the lake. Sort of a salute to my old college days, I guess.
Whether we choose to get active or just sit and people watch, we know we're also benefitting from just spending time outside, enjoying nature. Of course, this is not only entertaining, it helps lower blood pressure, reduce stress and calm the mind. Who doesn't want that?
Speaking of entertainment, we hope you'll find time to treat yourself to time to read this issue cover to cover. It's packed full of "good stuff."
Don't miss the fact that we have two more great teleseminars this month, and be sure to check out the two teleseminars we've had since our last newsletter if you missed them.
Our next teleseminar is this Thursday June 21st with Marla Heller. She'll be talking about Her DASH Diet action plan.
Then we've got Kelly Connors on June 28th, with her upbeat topic: "How I Found the ME in Menopause."
But There's More than Teleseminars
Beyond the teleseminars, this issue is full of great new content on from our many knowledgeable Associates. So find a moment for a little "me time," put on some fun background music and enjoy this issue. As Martha and the Vandellas told us years ago, "Summer's here and the time is ripe"… right?
And remember, NABBW is dedicated to supporting you and helping you live the best life possible. Be sure and use all your benefits, and if you're not yet a member join now! Exciting things are happening here!
Anne L. Holmes
"Boomer in Chief"
PS Be sure to send us your news, and tell us what you think of this issue. As always, "I'm listening."
Boomers In The News
Here Are Other Articles of Interest:
Dr. Oz Confirms Green Coffee Beans Burn Fat
Originally published on DoctorOz.com by Lindsey Duncan, ND CN on April 25, 2012
Dr. Oz's nutritionist normally doesn't promote "superfoods," believing instead that the key to weight loss is a healthy diet and exercise. But the green coffee bean is creating major media buzz…
Job Hunting? You Must Know the Difference Between A Resume and a Bio
Originally published in BoomersNextStep.com by Bill Vick on April 14, 2012
Confused about the difference between a professional bio and a standard resume? This article looks at the three key differences between the, and offers tips to keep in mind when creating them.
Rhubarb – The Indestructible Fruit
Originally published in the blog "Confessions of a Grandma," by Olga Hebert on May 21, 2012
Apparently once you plant rhubarb, you've planted it for life…
Self Care for the COPD Caregiver
Originally published in Thrivinginthe Middle.com by Kathleen Cleary on May 15, 2012
Being a caregiver for a loved one who has COPD can affect both your emotional and physical health. Because of this, people who care for someone with a serious illness like COPD are at increased risk of having health problems of their own and dying prematurely.
Giving Money to Your Grownup Kids?
Originally published in the blog "Sightings From the 60s," by Sightings on May 20, 2012
This post comments on a recent survey by Ameriprise Financial, "Money Across Generations" that finds that "Nearly all Boomers surveyed (93%) say they have provided some form of financial support to their adult children."
Who Can Resist Mocha Brownies?
Originally published in BrownEyedBaker.com by Michelle on May 18, 2012
Our favorite baker, Michelle, was in the mood for frosted brownies, but she's also been loving some divine mocha cupcakes. Which to bake? Voila! Here's her twist: luscious mocha frosted brownies. Yum!
Recent Forum Topics
I continue to witness women encouraging others in our Virtual Village at Boomer Women Speak Forums.
Won't you join us? Here's a peek at some topics we're chatting about:
Quotes for Living
This month we bring you a wealth of inspirational quotes on laughter from a variety of amazing people. If you have some other quotes which guide you, please feel free to send them so we can share them with the rest of our audience.
"Laughter gives us distance. It allows us to step back from an event, deal with it and then move on." ~~Bob Newhart
"I am thankful for laughter, except when milk comes out of my nose." ~~Woody Allen
"At the height of laughter, the universe is flung into a kaleidoscope of new possibilities." ~~Jean Houston
"Laughter is an instant vacation." ~~Milton Berle
"If we couldn't laugh we would all go insane." ~~Robert Frost
"I don't trust anyone who doesn't laugh." ~~Maya Angelou
Upcoming Teleseminars
We planned four fantastic teleseminars for May and June.
The May event with Tara Allmen, MD, All the Info on Menopause That Can Be Packed into an Hour, was a fabulous call covering hormone therapy, non-prescription alternatives and diet, exercise and lifestyle alterations that can help ease hot flashes, etc . Dr. Allmen offered a free copy of her 2 DVD set to 10 of the callers, and her offer was well-received. You can still listen to that call via your computer, by following the link above.
Our first June teleseminar, with Judith Geiger, Reinventing Your Life Via Soul Coaching, was a great call about rediscovering love…love for you, your life and your relationships, living the life you know you were always meant to live, and much more. Judith offered all listeners a Mini Soul Coaching® Oracle Card reading by phone or Skype. You can still listen to this call via your computer too, by following the link above.
Now here's the information you'll need to participate in the calls we have scheduled for June:
Marla Heller, MS RD – Making the DASH Diet Work for You – June 21st, 2012 – 8 PM EST
Marla Heller, MS, RD has been a featured nutrition expert for the Chicago Tribune, Washington Post, WebMD.com, about.com, the Daily Herald, Pioneer Press, Chicago Health & Beauty, WGN-AM and WNUR-FM. She is a frequent speaker at corporations, schools, health clubs, and athletic facilities. She has also been a spokesperson for the Greater Midwest Affiliate of the American Heart Association.
Marla's specialty is translating nutrition science into real life. She felt compelled to write The DASH Diet Action Plan to move DASH from the research setting to practical advice for real meals in a healthy lifestyle. The DASH Diet was recently ranked as the best American diet by U.S. News & World Report and now it has become a New York Times best seller.
Even though the first research report was published in 1998, fewer people today are eating in a way that is consistent with the DASH diet. Heller is focused on spreading the word about DASH and making it understandable and easy to follow.
Heller was a civilian dietitian with the U.S. Navy, at Naval Hospital Great Lakes, where she counseled active duty military, their families, and military retirees. She also worked with the U.S. Department of Health and Human Services, including helping on the Healthy Weight Collaborative.
During the call we will be discussing:
The DASH diet, including Marla's practical tips, strategies, meal plans, and recipes.
Painless ways to add exercise to your daily routine.
Additional lifestyle changes to support reaching your health goals.
How low sodium needs are built into the DASH diet.
How people with diabetes or metabolic syndrome can use the DASH diet.
How the DASH Diet Action Plan helps you set objectives, and develop your own customized strategy, step-by-step.
Kelley Connors, MPH – Finding the ME in Menopause — June 28th 2012 8 PM EST
Kelley is the host of Real Women on Health. A healthcare marketing and communications expert and advocate for women's health, her life mission is to help wellness organizations, pharma companies, hospitals and insurance companies create a health or wellness brand women trust most. She does this by providing programs to sponsors that help them reach the women they seek to reach, influence and build relationships.
Throughout her career she has worked across diverse areas such as vision care, medical devices, women's health, urology, disease prevention, public health, pharmaceutical marketing, broadcast media and more. She has helped life science and medical device companies – from pre-commerce to post-marketing initiatives – build their brands and businesses using the new rules and tools of PR and marketing in a socially connected world.
Kelley has spoken in front of the following organizations in the last three years:
2009 Public Relations Society of America Health Academy Annual Meeting
MedAd News' PharmaMedia Conference
US Small Business Association's SCORE
US Small Business Association's SCORE
Go Red for Women Summit on Women's Health
Marketing to the New Healthcare Consumer
World Congress' Leadership Summit on the Business of Women's Health
She received a Masters in Public Health from Boston University School of Public Health with a Certificate in Public Communication from BU's School of Public Communication and the University of Geneva, Switzerland.
During the call we will be discussing:
Menopause as we now know it. Specifically, since we now know that menopause is a time of estrogen-deficiency, and not a crisis at all, we can use it as a virtual gateway to the next 30-40 more years of life.
Kelley says that she has chosen to see this time of life as a time of awakening, of realizing our potential, and potentially a very "free-ing" time in our lives.
She says, "I'd like to be one of the increasing numbers of "old" women, who might see 92 from the third seat in a scull, and rowing in a Master's rowing event instead of succumbing to osteoporosis, one of my biggest risk factors.
"So, with my vision for how I wanted to be at 92, I've become more interested in creating a foundation for wellbeing, a pathway that would give me the tools for a positive mindset, a flexible and strong body, and the energy to be creative – all factors in assuring longevity.
Research shows us that doing all we can do in our 50's is critical to setting a foundation for living well throughout our life – emotionally, physically and spiritually."
Monthly Columns from NABBW Associates
Inspirational Video
httpv://www.youtube.com/watch?v=-KN7InYk69U
NABBW Member News
Rosemary Lichtman, Ph.D. and Phyllis Goldberg, Ph.D.
http://hermentorcenter.com
Rosemary and Phyllis recently held a Virtual Book Tour with guest Roger Frame, Ph.D. on his new book, Don't Carve the Turkey with a Chainsaw: Resolving Family Conflict. Phyllis says Frame is known as the "Conflict Whisperer" for his work helping families resolve their feuds and restore harmony. Catch a transcript of the conversation to benefit from Roger's insight and conflict resolution tools.
Mara Purl
http://www.marapurl.com
Mara writes that she was thrilled earlier this month when Amazon selected her novel What the Heart Knows as their "Daily Deal," temporarily pricing the e-book edition of her novel at $.99. We hope this honor allowed her to introduce thousands more to the wonderful citizens of Milford Haven.
Laurel Rund
http://essenceoflaurel.com
Laurel writes that in addition to authoring, she has been working on her photo art. She recently entered three of her pictures – "The Web of Life," "Reaching for Sunset," and "Kismet" – into an online photo contest.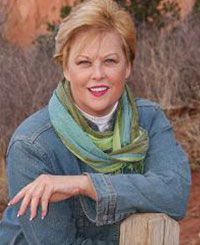 Barb Tobias
http://thrifttalkdiva.com
Speaker, author, columnist and NABBW Associate Barb Tobias has added a new title to her resume: Colorado New Day Summit Event Director. Barb and her fellow hosts are presenting three live events and several free teleseminars designed to help women change their game: "From 'Invisible' to 'Invincible.'" If you're going to be in the Colorado Front Range area in the next few months, you'll want to check out the details on the New Day Summit website. There are over a dozen powerful speakers
Dr. Dorree Lynn
http://www.fiftyandfurthermore.com/
As always, NABBW Associate Dr. Dorree is busy with counseling, speaking engagements and article writing. At the same time, she's taken on a life-altering move: After eight happy years in a commuter marriage, she's made the decision to make her husband's digs in Florida her primary home, with DC as her secondary one. A New Yorker born and bred, this is a big transition. Knowing how stressful moving can be, we wish her well.
Barbara Hollace
http://barbarahollace.com
Barbara has alerted us that she'll be speaking at the Greenleaf Center for Servant Leadership International Conference in Indianapolis on June 21st. She's the first speaker on the first day, speaking about "My Journey with Servant Leadership."
Give The Gift Of NABBW Membership
There are LOTS of reasons to give a gift of an NABBW membership. Perhaps you want to:
Affirm a friendship
Share the power of the new NABBW.com site with a colleague
Honor a family member (your mother, your sister, your daughter, your grandmother…)
Connect with a loved one
Mark important events, like birthdays (After all, many of us are experiencing milestone anniversaries and birthdays these days…)
Give a little encouragement to someone who could use some support and nurturing
Celebrate a new beginning
Or just share the many joys (and challenges) of being a Baby Boomer Woman today…
Now it's easier than ever to give a membership in NABBW as a gift. In the past, we arranged gift memberships on a one by one basis. NOW we're offering gift certificates., and they're EASY to arrange. All you need to do is click on the link below. It takes you to a sign-up page, which you need to fill out. Here's how:
In the first set of boxes, you tell us about you. We'll ask for your name, your email address (so we can contact you) and other simple contact information.
In the middle box, where it says "Additional Information," simply type in your intended NABBW giftee's name, email address (so we can send her the newsletters) and, optionally, the type of occasion you are recognizing with your gift of a year of NABBW membership. Also tell us whether you want to announce the gift yourself, or have us send an e-card.
Finally, in the third set of boxes, you provide us with information on how to charge your credit card, and click the box at the bottom that says "Complete Checkout."